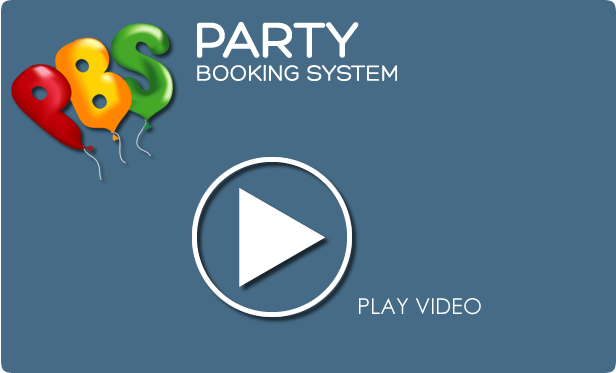 Party Booking Video Tutorials
Video Guide. How to book a party.
Booking a party - video transcript


Clicking on an available slot from the diary screen will bring up the booking panel.

Enter the contact details , or if you have the optional membership module, simply import the membership information.

If the party is for one of the members children this information can effortlessly be recorded in the booking

Select the type of party you would like to book. Party Types are defined when the software is setup, but they can be changed at any time.

Then enter the number of attendees coming to the party. You can choose to have more than one type of attendee attending a party. You can set minimum numbers for each attendee type to ensure parties are not booked if there are not enough numbers.

Select the party options. Notice how the invoice changes as you choose and unchoose the party options or change the number of attendees.

There are multiple types of options to choose from when you set up a party. Likewise there are many ways to charge for each type of option.

For each option and each attendee within the party you can charge a per person fee based on the number attendees attending, a per person fee based on a number you specify at the time of booking or a single 'flat fee'. If you don't know the cost of some of the options until the time of booking, no problem you can specify this when you book. This gives a staggering amount of flexibility when it comes to charging - we have spent a lot of time on this !

Add the Deposit. Again you can decide if each party needs a deposit, and the minimum this deposit should be.

You can invoice entries on the fly, for example a birthday cake purchased from the cafe.
PARTY BOOKING SYSTEM

Getting Started




More Advanced






ONLINE BOOKING MODULE

Taking Bookings Online





MEMBERSHIP MODULE

Membership basics