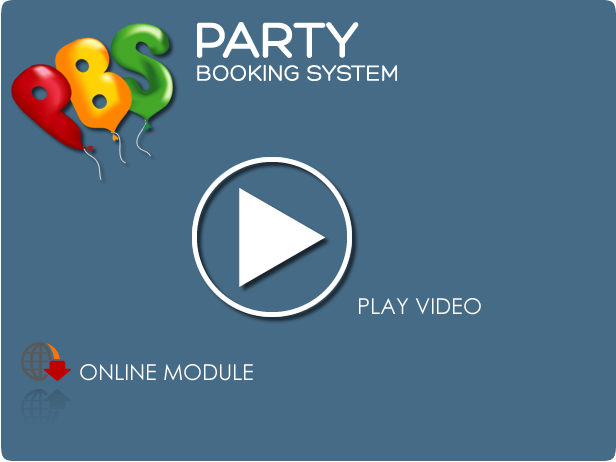 Party Booking Video Tutorials
Video Guide. How to receive online bookings from the internet.
Live Bookings - video transcript
In this demonstration video we will show you how the party booking program running on your desktop at the playcentre can receive bookings from the internet. Lets go ahead and see this in action.

Lets look at the diary screen on the main party booking program which will most likely be running on your reception computer. You can see that there are various times available to be booked for the day.

Lets have a look at the equivalent day on the website. The visitor will first choose the type of party they would like to book and then choose their preferred date from the calendar.

They can select different party types from the drop down menu - and are shown the available party times and the party options.

OK now lets book a deluxe party type. Lets choose the 14:00 time. We have 15 children coming to the party see how the total changes. Lets select some of the choices.

Hot meal is slightly more expensive than the cold buffet option - The way you have set the charging prices for these options is reflected here on the website.

The Merchandise option is a bit different - the charge is based on the number the visitor may put into the box.

Now we enter the details for the party recipient - followed by the contact details of the person booking the party.

If you have the membership module then membership prices are also shown on the website - enter your valid membership number (validation checks on members are done when the booking is received)

OK lets go ahead and make this booking. The visitor is taken to the paypal page. They can either login to their paypal account if they have one or if not can pay with a credit card.

Now lets flip back to the party booking software. Once a booking has been made online the party booking system will automatically receive notification. The booking can then be processed through the normal booking procedures.

As well as receiving email notifications when an online booking is made, information about the online booking is also accessible.

This gives you the best of both worlds - a powerful desktop application along with the advantages of allowing booking 24/7 on your website.
PARTY BOOKING SYSTEM

Getting Started




More Advanced






ONLINE BOOKING MODULE

Taking Bookings Online





MEMBERSHIP MODULE

Membership basics