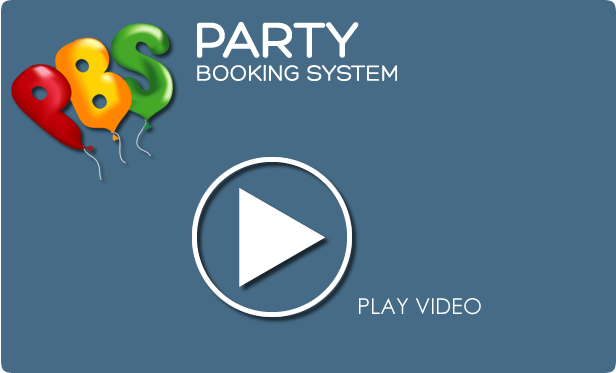 Party Booking Video Tutorials
We demonstrate features of the party booking system through the use of videos.
Overview - video transcript


What follows is a quick overview of the software

THE DIARY SCREEN – FINDING PARTIES

From the Diary quickly and easily search for a party booking, or search for bookings which have been made but not yet confirmed. Operators can only book whats available. No more mistakes with double bookings or booking the wrong type of party at the wrong time.

Quickly view monthly statistics to see what capacity the party centre is at for the month.

MAKING A BOOKING.

Clicking on an available slot from the diary screen will bring up the booking panel. Firstly select the type of party you would like to book.

Enter the contact details , or if you have the optional membership module, simply import the membership information. If the party is for one of the members children this can effortlessly be recorded in the booking. Then enter the number of attendees coming to the party.

Select the party options. Notice how the invoice is constructed as you choose the party options.

If members are charged less then this price is automatically reflected in the invoice.

PBS can provide a history to each party booking. This provides an audit trace on all changes made to a booking in case of an questions in the future.

Add the Deposit

Once all the party options have been chosen you can Print or Email an Invoice or Confirmation letter. Invoices and Confirmations are based on Word Templates and you are free to customise and adapt these templates to give a Professional presentation to your customers.

DATABASE QUERIES - ANALYSE YOUR TRENDS

PBS contains some sophisticated database search facilities.

These searches can be used to send out reminders. For example you may like to send out letters to those contacts who have had a party before with children with birthdays due in the next 1 month with an age between 10 and 12 years.

The search facilities are not only useful but tied with email and mail merge facilities they can also increase your profits and maximise your potential.

Marketing to your which once might have taken a whole day to setup is now available at the click of a button.

EASY TO SETUP
We set up all your own basic settings making it easy for you to get going quickly. However all settings and setup of your parties are easily tweaked via the setup manager.

PARTY BOOKING SYSTEM

Getting Started




More Advanced






ONLINE BOOKING MODULE

Taking Bookings Online





MEMBERSHIP MODULE

Membership basics